The Complete Guide to LIMS and Laboratory Informatics: 2020 Edition
10/06/2020 - The True Value of Best-of-Breed
Best-of-breed laboratory technology drives higher efficiency, productivity, and profitability compared to enterprise-wide system modules from vendors who do not maintain a targeted focus on only the lab. In this new video, learn how and why Sunquest's wide-ranging technical and cross-discipline laboratory expertise make us the One delivering labs to new heights. This is the second article in a three-part series of Q&A conversations with Dr. Aaron Sato, CSO of Twist Biopharma, a division of Twist Bioscience. Part one focused on how Twist is adapting to the ongoing COVID-19 crisis and appeared in the spring edition of Benchtalk Journal. Part three will focus on Dr. Sato's career as well as the unique approach Twist Biopharma is taking to antibody discovery and will appear in the fall edition of Benchtalk Journal.
---
Learn how to apply change management to laboratory informatics projects for maximized stakeholder buy-in and end-user adoption. Are you planning an implementation or upgrade of your laboratory informatics systems (LIMS, ELN, CDS, etc.)? If so, it's important to know that these types of projects often lead to changes in the way lab analysts and operators do their jobs, and that can be challenging. This course, Organizational Change Management in the Lab, is designed to guide you, step by step, through implementing Organizational Change Management in a laboratory environment. Learn how to influence people's behavior, reduce the risk of change, and minimize disruption to your organization.
---
Two well-known universities in Louisiana have quickly and effectively ramped up complete testing management programs to protect their students and staff, as well as meet other testing challenges with spectacular results. Both universities have teamed up with LabLynx, Inc. to roll out the COVIDLiMS Solution Suite and were live and operational within 2-3 weeks. The unprecedented implementation time...
---
OnQ Softare is very pleased to announce that we are bringing our market leading LIMS solution, QLIMS, to Europe through the launch of OnQ Software Europe. Based in the Netherlands, at the German border, we will cover Europe and support our other European partners in sales and project delivery.
---
With the pace of digital transformation rapidly increasing available data on all aspects of life in our world, data-driven organizations are being forced to make critical adjustments in their data management strategies in order to remain competitive. Industry-leading companies are working hard to reduce manual processes and implement informatics systems that support scientists in managing data and generating actionable intelligence.
09/21/2020 - Screening for more than 1,000 pesticides and environmental contaminants in cannabis by GC/Q-TOF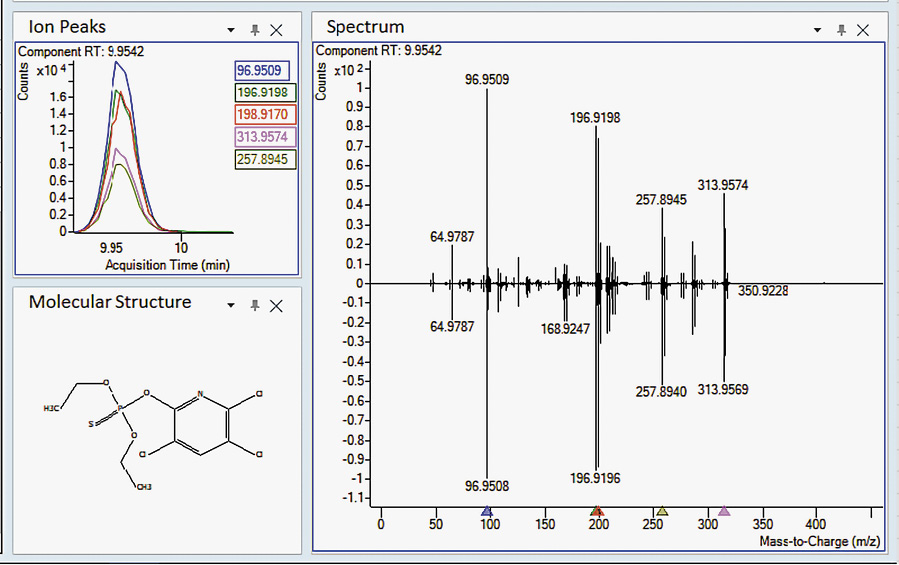 Sure, there are laboratory methods for looking for a small number of specific contaminates in cannabis substrates (target screening), but what about more than a thousand at one time (suspect screening)? In this 2020 paper published in Medical Cannabis and Cannabinoids, Wylie et al. demonstrate a method to screen cannabis extracts for more than 1,000 pesticides, herbicides, fungicides, and other pollutants using gas chromatography paired with a high-resolution accurate mass quadrupole time-of-flight mass spectrometer (GC/Q-TOF), in conjunction with several databases. They note that while some governmental bodies are mandating a specific subset of contaminates to be tested for in cannabis products, some cultivators may still use unapproved pesticides and such that aren't officially tested for, putting medical cannabis and recreational users alike at risk. As proof-of-concept, the authors describe their suspect screening materials, methods, and results of using ever-improving mass spectrometry methods to find hundreds of pollutants at one time. Rather than make specific statements about this method, the authors instead let the results of testing confiscated cannabis samples largely speak to the viability of the method.
A Guide for Management: Successfully Applying Laboratory Systems to Your Organization's Work
This recorded Lab Informatics Tutorial series is designed as a management level view of laboratory systems and is appropriate for anyone planning, reviewing, or approving the acquisition of laboratory informatics. A background in science is not necessary to follow the presented material. Its purpose is to provide you with an understanding of how these technologies (Laboratory Information Management Systems, Electronic Laboratory Notebooks, Scientific Data Management Systems, Laboratory Execution Systems, Instrument Data Systems, and supporting technologies ) can be used to support/improve your labs operations, and the considerations that need to be taken into account before they are purchased.
10/15/2020 - Webinar: Make Your Laboratory the Focus of Your Business
---
10/21/2020 - Astrix Webinar – Developing your Lab Informatics Roadmap Through Business Process Analysis
---
---
---
---
10/06/2020 - Technopath Clinical Diagnostics Introduces the First Unified, Purpose-Built Quality-Control (QC) Platform Providing Precision and Accuracy of Patient Sample Results
---
---
---