11/10/2020 - Top 3 STARLIMS Features You Probably Aren't Using, But Should!
Congrats on implementing STARLIMS for your laboratory! This may come as a shock, but you probably aren't using some of the great features of the LIMS, right out of the box. Like most laboratories, just getting an informatics system in place can be a tough process, forcing a lab to focus on critical items first, like sample reception, testing, and approvals. This means that other enhancements, modules, and features can be placed on the backburner or even forgotten. [Read More]
---
11/10/2020 - Integrated Reporting for Anatomic Pathology & Molecular Testing
In today's anatomic pathology (AP) lab, molecular testing plays an increasingly important role in informing treatment decisions. With Sunquest's integrated reporting capabilities for AP and molecular testing, review combined results in one actionable report for more coordinated, efficient care. [READ MORE]
---
11/10/2020 - Strategies for Creating Effective Technical Documentation – Part 1
On April 20th, 2010, a massive explosion on BP's Macondo well in the Gulf of Mexico killed 11 people and began the largest marine oil spill in history. Before the spill was over, 206 million gallons of oil were released into the Gulf of Mexico, ultimately affecting wildlife and water-quality along hundreds of miles of Gulf coastline. According to BP's Deepwater Horizon Accident Investigation Report, reasons leading to the accident were lack of good technical documentation and non-adherence to the documents that did exist. [Read More]
---
11/10/2020 - Exemplar LIMS - Baylor College of Medicine Case Study
See how Baylor College of Medicine's Human Genome Sequencing Center uses Exemplar NGS LIMS from Sapio Sciences The BCM-HGSC is a world leader in genomics and one of the most technologically advanced laboratories processing a high volume and wide variety of samples and protocols. They have experienced dramatic growth in both the volume and complexity of the DNA sequencing including for COVID-19 testing. Click here to see how Baylor uses Exemplar's NGS LIMS to meet their demand and how Exemplar has become an essential part of their future
---
11/10/2020 - Autoscribe White Paper Emphasizes the Role of LIMS in Supporting ISO17025 Accreditation in Efficiently Run Laboratories
Autoscribe Informatics, a leading global laboratory informatics provider, announced the release of a new white paper examining the role of a Laboratory Information Management System (LIMS) in supporting ISO17025 accreditation. The white paper explores the ways in which a Laboratory Information Management System (LIMS) can play a key role in achieving, maintaining, and benefiting from ISO17025 accreditation.
---
11/05/2020 - Sample Tracking is Essential for Organizations that Outsource Laboratory Testing Activities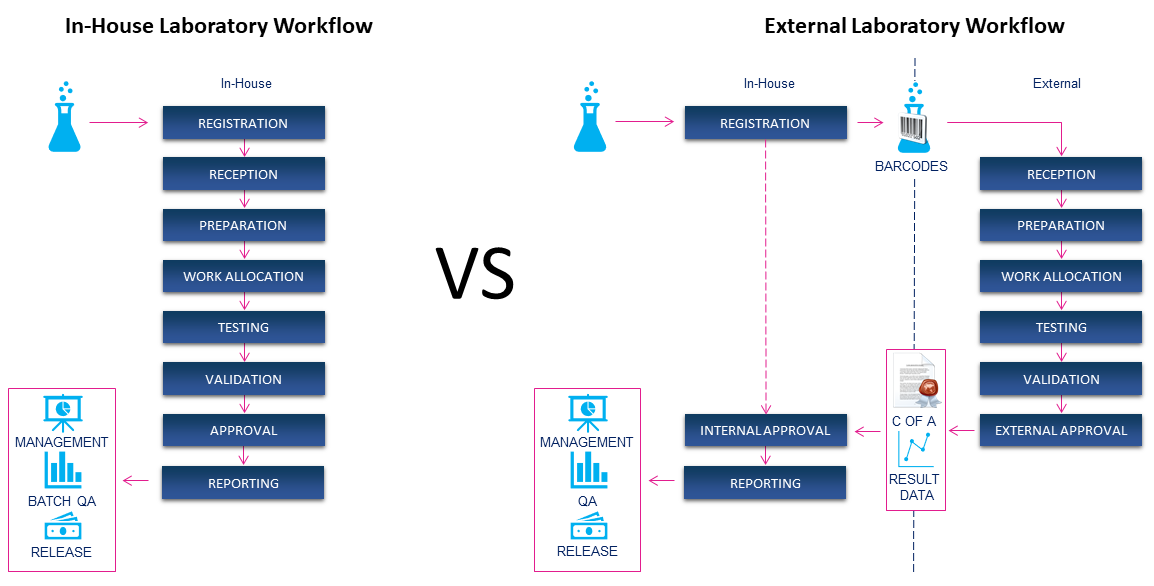 Determining the pros and cons of operating an in-house laboratory or sending samples out to an external laboratory to be tested is increasingly topical. Whether your products are toys or fish pies, cars or shoes, blood products or water, nearly all testing can be performed by a contract laboratory. But It is a mistake to think that outsourcing your laboratory means you do not need a system for tracking samples and the resulting data.
---
11/04/2020 - The Secrets of Successful LIMS Configuration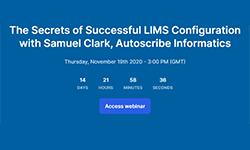 ABOUT THIS WEBINAR: Are you interested in learning the secrets of LIMS configuration to allow easier modifications, extensions and upgrades? How can you ensure your implementation is successful? Learn what drives successful LIMS projects, unwrap the secrets of configuration, and discover the pitfalls to avoid.
[LEARN MORE]