COVID-19 Testing, Reporting, and Information Management in the Laboratory
12/30/2020 - Lab Informatics Insights 2020
It's typical for a service provider to stay up-to-date with industry happenings and to continually learn about their potential clients' ever-changing needs. There are programs and measures in place to calculate and monitor these needs. At CSols, we developed a set of polls and quizzes to identify industry trends and collect feedback from those whom our lab informatics services can help. The respondents were contacts across various industries, and at different stages in their lab informatics project. [Read More]
---
12/30/2020 - Diversification: The Key to Surviving as a Cannabis Testing Lab
Organizations, Businesses, Schools and Colleges everywhere need testing programs. Data-driven decision making has put laboratories squarely in the center of the COVID-19 pandemic response. Unfortunately, even CLIA-certified clinical diagnostic labs can't contribute unless they have the resources to conduct COVID-19 molecular diagnostics testing. But now there may...
---
Astrix Technology Group has been helping scientific organizations implement and integrate new informatics systems in the laboratory since 1995. Our experienced team of expert informatics consultants bring together technical, strategic, regulatory and content knowledge to provide the most effective solutions to problems faced by scientific organizations. Astrix partners with many of the industry leaders in this space and have brought them together for a one of kind webcast series that will delve into the future of lab informatics and technology. [Read More]
---
Five areas of focus emerge when we look at how best-of-breed technology is helping labs manage through COVID-19. Get the new white paper. [READ MORE]
---
In recent years, cloud technology has evolved into a universal essential technology platform, transforming the healthcare industry as we know it. Introducing the cloud-based laboratory information system, which is expected to become the leading trend in the laboratory information systems market. This advancement provides storage and servers over the internet at a reduced cost, as well as increasing speed, productivity, and security of the systems in the network. SCC Soft Computer's diverse product solutions are all available on the cloud, offering unique features and benefits per module. Click here to learn more about our products hosted on the cloud.
---
Since March 2017 doctors in Germany can prescribe cannabis based drugs for several illnesses and conditions such as headaches or migraines. Legalizing medical cannabis is paving the way for many smaller biotech companies and startups in Germany in businesses related to cannabis research, cannabis cultivation, or manufacturing cannabis-based products. These new regulations have led to the emergence of a number of cannabis-testing laboratories and massive facilities for growing and manufacturing medical-grade cannabis.[Read More]
12/08/2020 - Cannabinoid, terpene, and heavy metal analysis of 29 over-the-counter commercial veterinary hemp supplements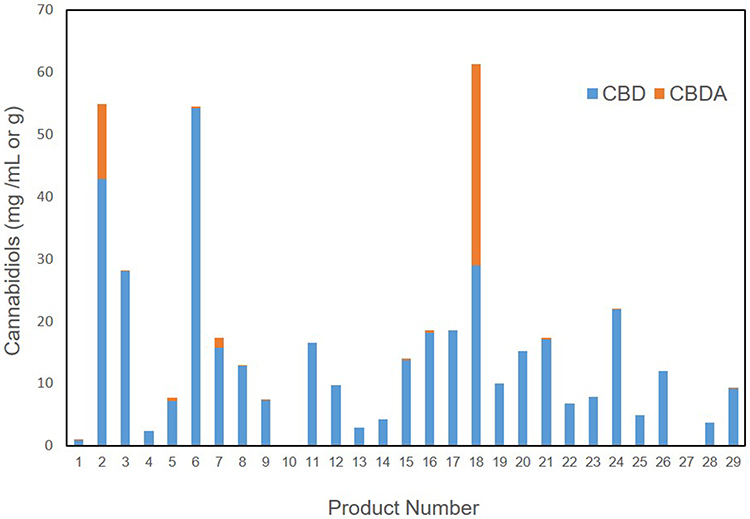 While the push for the decriminalization of cannabis, its constituents, and the products made from them continues in the United States, issues of quality control testing and standardization persist. Consistent and accurate laboratory testing of these products is required to better ensure human health outcomes, to be sure. However, with the legalization of hemp, it's not just products intended for humans that are being created from hemp constituents such as cannabidiol (CBD); products marketed for our pets and other animals are appearing. And with them an inconsistent, sometimes dangerous lack of testing controls, or so finds Wakshlag et al. in this 2020 paper published in Veterinary Medicine: Research and Reports. The researchers review the regulatory atmosphere (or lack thereof) and then present the results of analytically testing 29 cannabis products marketed for dog use. They found wide-swinging variances in actual cannabinoid and contaminant content, straying often from labeled contents and contaminant standards. They conclude "the range and variability of [cannabis-derived] products in the veterinary market is alarming," and given the current state of regulation and standardization, "veterinary professionals should only consider manufacturers providing product safety data such as COAs, pharmacokinetic data, and clinical application data when clients solicit information regarding product selection."
---
12/01/2020 - Methods for quantification of cannabinoids: A narrative review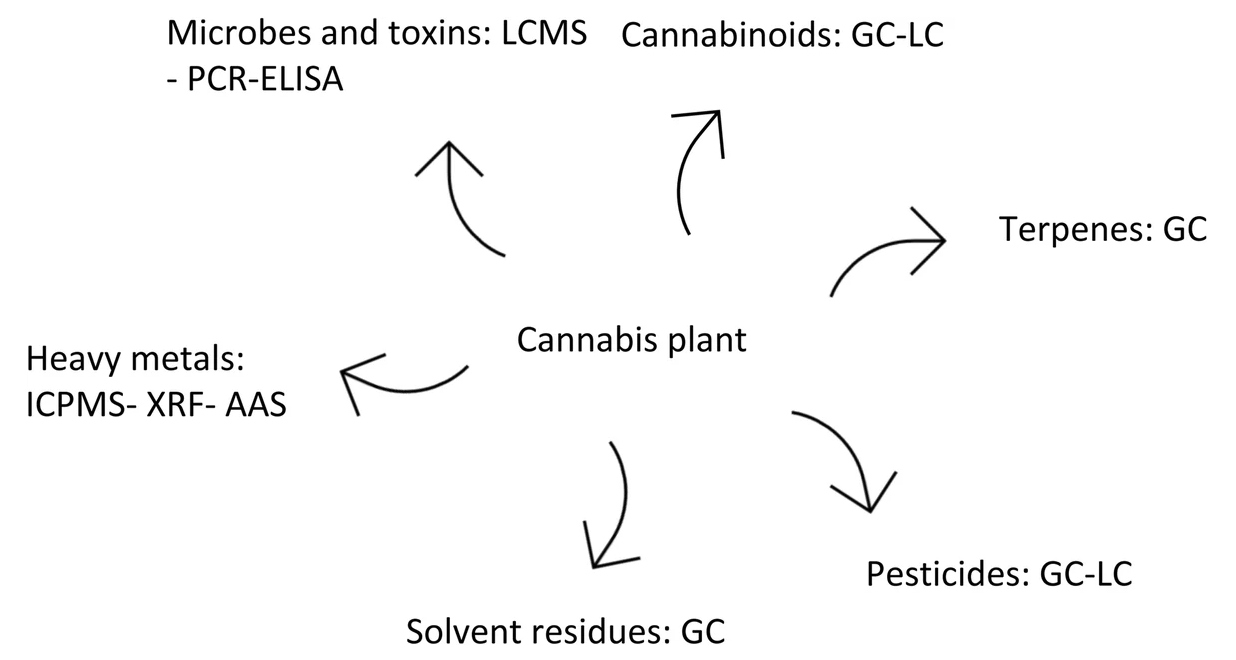 Many papers have been published over the years describing different methods for quantifying the amount of cannabinoids in Cannabis sativa and other phenotypes, as well as the products made from them. Few have taken to the task of reviewing all such methods while weighing their pros and cons. This 2020 paper by Lazarjani et al. makes that effort, landing on approximately 60 relevant papers for their review. From gas chromatography to liquid chromatography, as well as various spectrometry and spectroscopy methods, the authors give brief review of many methods and their combinations. They conclude that high-performance liquid chromatography-tandem mass spectrometry (HPLC-MS/MS) likely has the most benefits when compared to other methods reviewed in this paper, including the ability to "differentiate between acidic and neutral cannabinoids" and "differentiate between different cannabinoids based on the m/z value of their molecular ion," while having "more specificity when compared to ultraviolet detectors," particularly when dealing with complex matrices.
Laboratory Information Systems Project Management: A Guidebook for International Implementations
While not a laboratory informatics course in itself, this APHL guidebook certainly contains a full class-worth of material. Developed over several years with funding from the Centers for Disease Control and Prevention (CDC), this guide collects comprehensive information from informaticians and laboratorians in multiple countries in regards to the implementation and project management of laboratory information systems (LIS) in the public health setting.
01/12/2021 - Webinar: Healthcare IT Innovation: Align IT Ambitions with Practical Actions
---
01/27/2021 - Webinar: Open Practices in Science and Education Think Pragmatically, Less Idealistically
---
---
---
---
---
---
---
---
---
---
---