Are you about to undertake the creation of master data in a Laboratory Information Management System (LIMS)? The dread that comes with knowing that it'll be laborious and potentially frustrating can cause users to be wary. This can be true if you have to create master data templates in LIMS—but it does not have to be.

[Read More]
---
Sunquest's best-of-breed technology is best suited to deliver on both immediate and evolving laboratory needs, particularly with regard to fighting COVID-19. In this white paper, we focus on five key areas of laboratory workflow that are benefitting from technological support.

[Read More]
---
Whether you're doing oil and gas, petrochemical, hydrocarbons, biodiesel and alternative fuels or related testing, The LabLynx LIMS Solution for Oil and Gas provides you with all of the functionality you need, in a web-based, state-of-the-art solution. Petrochemical, biofuels and related development and processing, and the testing that supports...
---
The pandemic may have created havoc on businesses almost everywhere, but hemp and cannabis continue to thrive and even gain momentum. Besides meeting food and drug safety standards, licensed cannabis producers must pass THC potency thresholds before their crops can be used to make medicinal, adult-use, or industrial cannabis products. Hemp is strictly regulated and monitored to guarantee it meets legal limits.
---
Daily COVID-19 testing in the United States dropped precipitously as the latest surge ebbed and vaccines made their way into the population. But has the need for testing also dropped? Or could the demand for testing return? The answers to those questions will shape the near-term future for testing labs as they decide what investments to make in their operations.
---
Between January 25th-27th, Strateos was a proud participant at the SLAS 2021 Digital International Conference and Exhibition where we had the opportunity to showcase our expanded product and services portfolio in support of HTS workflows in drug discovery and biopharmaceutical programs worldwide.

[Read More]
---
Ensuring data integrity is an essential component of the biopharmaceutical industry's responsibility to guarantee the safety, efficacy, and quality of therapeutics, and of FDA's ability to protect public health. The FDA defines data integrity as the completeness, consistency.

[Read More]
03/22/2021 - Named data networking for genomics data management and integrated workflows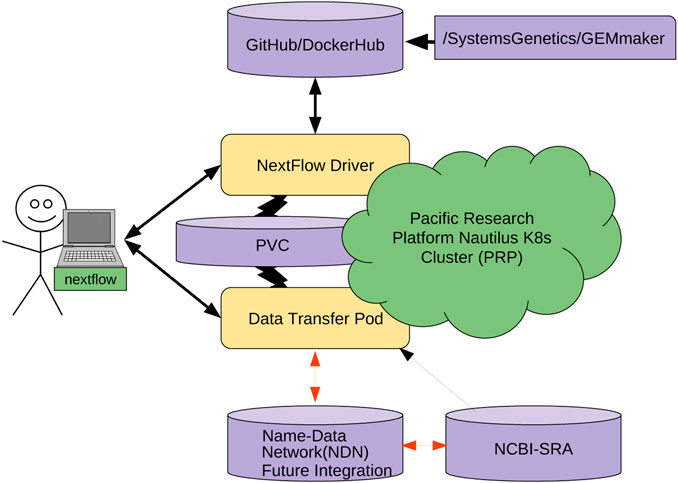 Managing and sharing big data in the cloud has its own set of cyberinfrastructure challenges, and that includes genomic research data. With large data sets being stored in numerous geographically distributed repositories around the world, effectively using this data for research can become enormously difficult. As such, Ogle et al., writing in Frontiers in Big Data, present their efforts towards reducing these network challenges using an internet architecture called named data networking (NDN). After discussing NDN, the authors describe the problems that come from wanting to manage and use big genomic data sets, as well as how NDN-based solutions can alleviate those problems. They then describe their method towards implementing NDN with genomics workflow tool GEMmaker in a cloud computing platform called the Pacific Research Platform. Through their efforts, they conclude that "NDN can serve data from anywhere, simplifying data management," and when integrated with GEMmaker, "in-network caching can speed up data retrieval and insertion into the workflow by six times," further improving use of big genomic data in practical research.
1 day ago - Clinical Laboratory Microbiologist
Vanguard Healthcare Staffing
-

Fort Payne, Alabama 35968

Job Description:The Clinical Laboratory Microbiologist will be tasked with determining the sensitivity & resistance of pathogens (bacteria and fungi) identified in patient samples to a...
---
1 day ago - Programmer Analyst II
Washington University
-

St. Louis, MO 63110
SUMMARY Job Title: Programmer Analyst II – GTAC@MGI Location: Medical School Full/Part Time: Full-Time Regular/Temporary: Regular Remote city possible for seasoned candidate JOB TYPE/SCHEDULE...
---
2 weeks ago - Principal Software Engineers
Abbott Rapid Diagnostics
-

San Diego, CA 92121

Abbott Rapid Diagnostics is expanding! We are looking for experienced Software Engineers in San Diego, CA to support new product development for next generation of...
This is a Rochester Institute of Technology-created course that is released on the edX platform. The introductory eight-week course is designed to help learners "learn cybersecurity fundamentals, including how to detect threats, protect systems and networks, and anticipate potential cyber attacks." The course is free to take. A verified certificate of completion from RIT is available afterwards for $249 USD. Two sessions are currently available: January 5 to March 2, and March 30 to May 25.
---
---
---
03/30/2021 - Decent OOTD external portal examples (that integrate nicely into a LIMS)?
---
03/29/2021 - LabWare x Empower interface
---
03/08/2021 - what is six sigma certification
03/31/2021 - Proscia and Unilabs Enter Strategic Partnership to Advance the Use of Artificial Intelligence in High-Throughput Diagnostic Workflows
---
---
---
---
---
---
---