Pistoia Annual Conference 2022 – Conference Recap
Astrix at Pistoia Annual Conference
 Astrix had the opportunity to participate as the Networking Reception Sponsor at the Pistoia Annual Conference in Boston, MA on Nov 1-2, 2022. This event had over 225 life sciences R&D representatives from many of the largest Pharma companies including: Abbvie, Astellas, AstraZeneca, Bayer, Biogen, Boehringer Ingelheim, Bristol-Myers Squibb, Charles River Lab., Eli Lilly, Roche, Genentech, GlaxoSmithKline, J&J, Merck, Novartis, Novo Nordisk, PerkinElmer, Pfizer, Takeda, UCB, and Vertex Pharma.
Besides the pharma and biotech companies, there were government regulators and vendors who came together to discuss the key challenges being faced in the Pharma industry. Participants from Astrix included individuals from our Lab Information Systems group, Strategic Consulting Services group, and Marketing.
At this 2 day event, the following was the agenda and some of the key topics discussed:
 Day 1, Nov 1
This day was dedicated to showcasing and reviewing current and proposed Pistoia Alliance projects that aimed to lower barriers to innovation in life science R&D.
A few of the topics included:
FAIR Implementation
Natural Language Processing (NLP) Use Case Database Project
GMLP – Emergent Good Machine Learning Practices Community
Controlled Substance Compliance & Shipping Expert Community
Summary of Lab of the Future sessions and Pistoia Alliance D&I Program
At the end of Day 1 Astrix Sponsored the Networking Reception
This provided attendees with the opportunity to meet with colleagues and vendors.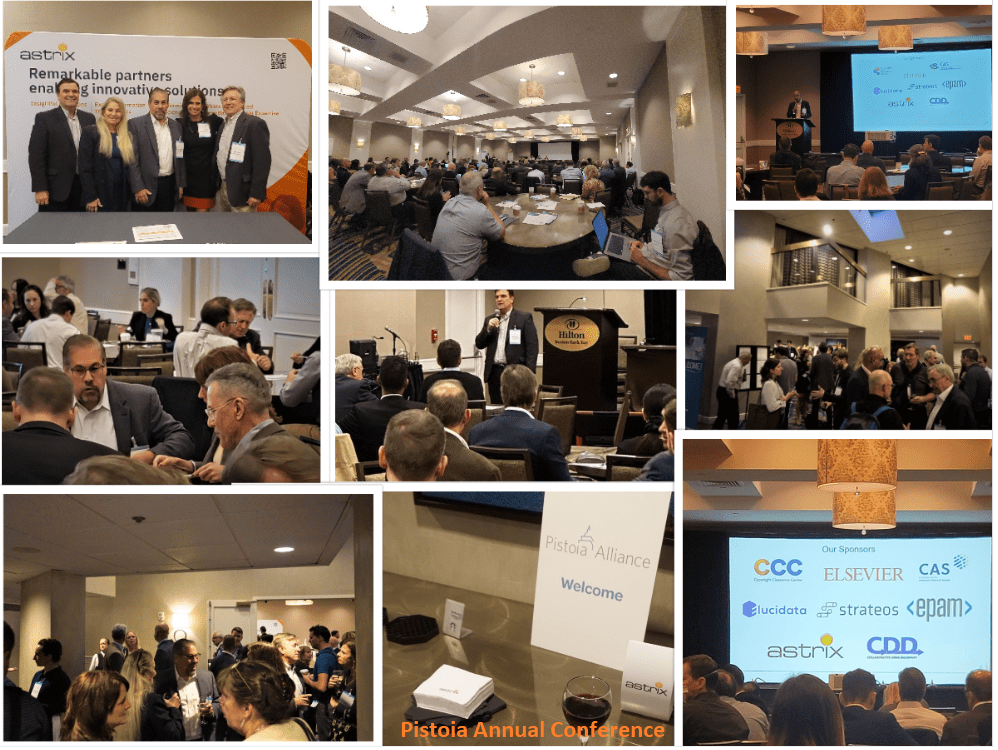 Day 2, Nov 2
This day included a series of plenary presentations, panel discussions, breakout groups, poster presentations, and networking activities as the challenges and opportunities for pre-competitive collaboration across the biopharma value chain was discussed.
A few of the topics included:
Regulatory Policy and Innovation by FDA
Keynote Panel Discussion: Innovation in Support of Sustainability in R&D
The emerging landscape of RNA therapeutics
About Astrix
Astrix is the unrivaled market-leader in creating & delivering innovative strategies, solutions, and people to the life science community.  Through world class people, process, and technology, Astrix works with clients to fundamentally improve business & scientific outcomes and the quality of life everywhere. Founded by scientists to solve the unique challenges of the life science community, Astrix offers a growing array of strategic, technical, and staffing services designed to deliver value to clients across their organizations.