Strateos Raises $56 Million in Series B Funding to Expand its SmartLab Platform to Accelerate Life Science Discoveries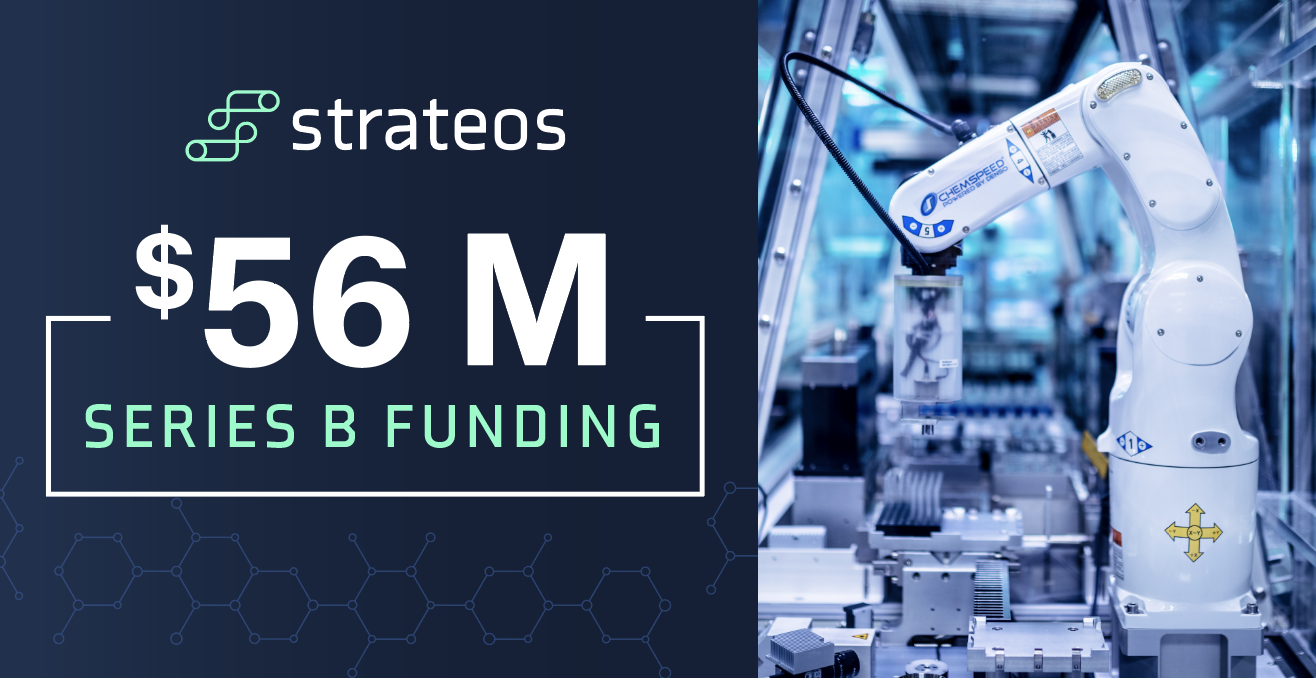 Strateos is pleased to announce a $56.1 Million Series B investment led by DCVC and Lux Capital with participation from investors Eli Lilly and Company, Ally Bridge Group, Mack & Co., LLC, Black Diamond Ventures and Castor Ventures.
With their support and expertise, Strateos is excited and committed to continue its mission to expand the next-generation of smart lab solutions with direct access to automation to accelerate discovery in life sciences
The demand for life-saving discoveries has vastly outpaced the speed at which data, insights and solutions can be generated with traditional benchtop techniques. In the life sciences, we are seeing a pressing need for more automated solutions that accelerate discovery and enable the creation of data sets that can power new AI-driven analysis tools. The need to command and control scientific workflows from a single software interface, automating workflows and bringing operations into the 21st century.
Adding to this is the increased frequency of global partnerships and collaborations where stakeholders are geographically separated. There is a huge need for lab-to-lab connectivity and remote-accessible automated tools that can improve the speed, accuracy and quality of the data as well as overcoming challenges associated with these new decentralized paradigms.
Seated at the intersection of life science and information technology, Strateos is fundamentally transforming the way life science is being conducted, Scientists can focus on their hypotheses and experiments and not the infrastructure or day to day worries in the lab. This benefit is there whether it is for small molecule drug discovery combining automated chemical synthesis with automated biological testing or for an array of synthetic biology applications or other areas of life science research.
Funded by DARPA, Strateos is a key component of a interdisciplinary group of scientists, software developers, automation specialists, and machine learning experts aimed at developing a closed Design-Build-Test-Learn experimental loop for synthetic biology applications to enable scientists to iterate experiments quickly to reach scientific answers faster.
To learn more about this collaborative effort please read our blog post
With this funding we will continue to scale our two SmartLab Facilities with over 14,000 square feet of laboratory space equipped with 200+ connected instruments that are tailored to the application needs of life scientists. Scientists now have the flexibility to design, manage and collaborate from anywhere in the world with secure, remote-accessible command-and-control lab software paired with sophisticated instrumentation for rapid and precise data generation and analysis. Faster iteration of the design-make-test-analyze cycle enables new scientific discoveries to be reached faster than ever before.
This past year has been a busy one at Strateos, and the future looks bright with our launch of the facility in San Diego CA, supporting small molecule drug discovery and high throughput screening, enabling our customers to screen 1M+ compounds in a little as two weeks, discovering and characterizing novel drug candidates with greater speed and accuracy compared to conventional outsourcing methods. This new facility will allow us to continue building and scaling our network and to develop innovative solutions to push the boundaries of what's possible for remote-controlled cloud labs.
If you would like to learn more or join us in this journey please contact us