Home
Featured Content
---
---
---
---
---
---
---
---
Journal Articles
08/01/2022 - Anatomic pathology quality assurance: Developing an LIS-based tracking and documentation module for intradepartmental consultations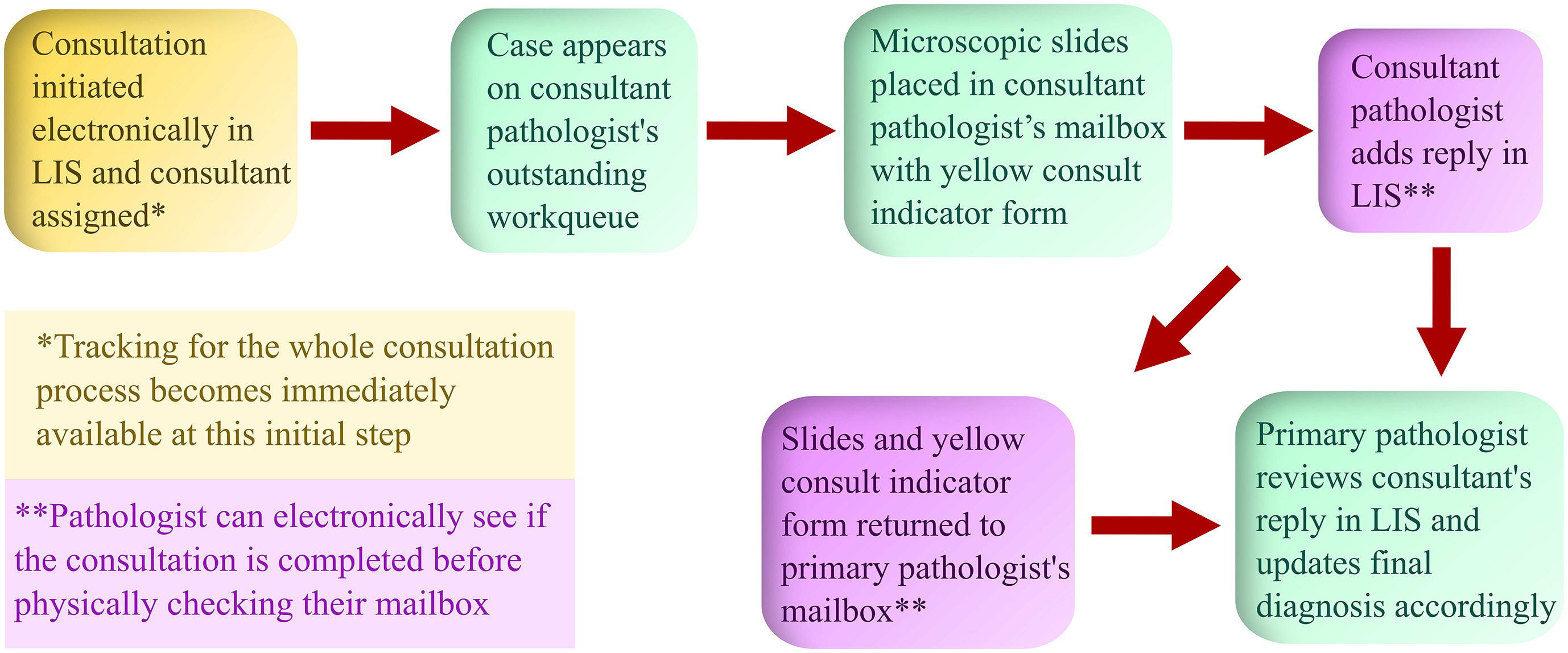 In this 2022 paper published in Journal of Pathology Informatics, Dundar et al. of University of Iowa Hospitals and Clinics describe an add-on for their laboratory information system (LIS), an electronic intradepartmental consultation system for anatomic pathology (AP), and how it impacted their facilities. After a brief introduction and background, the authors describe the methods used to adapt an AP consultation system into Epic's AP Beaker. Noting that 7.3% of all case work was consultation, they broke down the results of implementing the more automated system and discussed how the new system improved management and documentation of the consultation process. After discussion of their results, the authors conclude that their more automated system implemented in the AP Beaker LIS improves their processes and documentation, provides better tracking of consultation cases, which in turn plays "a vital role in preventing misdiagnosis and improving pathology reporting and trainee education."
Featured Jobs
6 days ago - Clarity LIMS Developer
Elastic Solutions, Inc.
-

Remote, CA 94005

Location: RemoteCandidates Need EITHER specific Clarity LIMS exp OR very strong Python skills and very strong background in molecular diagnostic workflows particular to NGS.Company DescriptionOur client...
---
2 weeks ago - Laboratory System Administrator
Seattle Public Utilities
-

Seattle, WA, Washington 98104
Position DescriptionAn online application including response to the supplemental questionnaire must be fully completed for consideration Seattle Public Utilities (SPU) is seeking an experienced Laboratory System Administrator (ITP-B) to...
---
2 weeks ago - Sr Software Developer – Laboratory Information Systems
Regeneron Genetics Center
-

Tarrytown, New York 10591
https://careers.regeneron.com/job/R12752/Sr-Software-Developer-Laboratory-Information-SystemsWe are looking for a Senior Software Developer - Laboratory Information Systems who will configure, customize and system admin the information systems supporting the Regeneron...
---
2 weeks ago - Laboratory Information Coordinator
TidalHealth
-

Salisbury, Maryland 21804
The Laboratory Information Coordinator receives, distributes, and processes blood and body fluids/specimens from inpatient, outpatient and outreach locations. The LIC coordinates information between laboratory sections...
---
2 weeks ago - Medical Laboratory Scientist
TidalHealth
-

Salisbury, Maryland 21804
The Medical Laboratory Scientist (MLS) is responsible for the performance, evaluation and correlation of test procedures and assists in the selection and evaluation of test...
Upcoming Webinars
09/14/2022 - Digital Roundtable Event – Why modern systems are needed for true digital transformation
---
09/14/2022 - Webinar: The Past, Present, and Future of Laboratory Automation
---
08/30/2022 - ResultWorks Webinar – Emerging Technologies' Impact on Digital Transformation in Life Science
Bid Opportunities
---
---
---
---
---
---
---
---